Insights that pave the road
to successful infrastructure management.
| Create a better understanding
Free eBooks for you to download

These eBooks are made available by BRAINCREATORS, the software company that is one of the driving forces behind INSPECH. Clicking download will redirect you to their website where you will be asked to fill in a form in order to confirm your download.
eBook
How digital technology drives significant changes in road inspection



There are many reasons why road inspection is a vital task, of which cost and safety are perhaps the most important.


eBook
3 practical business cases in

road inspections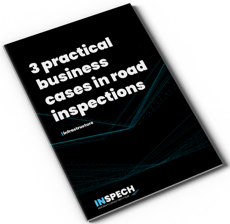 In this e-book we present three case studies that explain how

IN

SPECH removes common challenges in road inspection.


eBook
Automated Digital Road
Inspection




Read how

IN

SPECH is specifically adapted to road authority needs and how it benefits end-users such as governments.


eBook
The 5 innovations that will disrupt civil infrastructure management



There are 5 very promising technical developments that can have a significant impact on bottom-line results in civil infrastructure management.


eBook
3 successful business cases in infrastructure management




In all of these cases users receive an accurate assessment of asset condition at every stage of its life cycle, allowing them to reduce inspection costs.


eBook
How to use Artificial Intelligence (AI) without a degree in data science



There are many industries where AI is already being applied to maximize value, reduce waste and increase employee safety.


eBook
The 7 habits of highly effective asset management



We are often asked why some asset managers and owners are more adept at staying within budget and meeting operational targets than others.

eBook
3 practical business cases in

asset and maintenance management


The case studies in this eBook illustrate how artificial intelligence can streamline workflows and improve efficiency.



eBook
Employing intelligent automation for better business operations



Repetitive work is not the best use of human intelligence since we excel at creativity, emotional involvement and contextual reasoning.


|

Download our brochure
Get faster, more consistent & reliable results;
Fully compliant with road assessment standards;
Share reports with ease in a cloud-based SaaS environment;
Inspect more roads in less time;
Interact with inspection results in an online viewer;
Export results in standard formats (ESRI Shapefile, XLS) online;
Reduce road maintenance costs and maintain road safety.
IN

SPECH is yet another Digital Inspector by:
BRAINCREATORS | Prinsengracht 697 | Amsterdam | +31 (0) 203 697 260 | braincreators.com